In the Company of Specialists
When you join a company like Sanad, you know you'll be among likeminded people. An inspiring group of individuals who have a certain drive toward betterment and upward mobility, a passion for all things aviation, and a hunger for success.
We thrive on teamwork, the exchange and sharing of ideas, the ability to look at things differently, and to come at challenges from a fresh perspective. That's what's placed us at the forefront – not only as a "specialists' company" but also as leaders of our industry.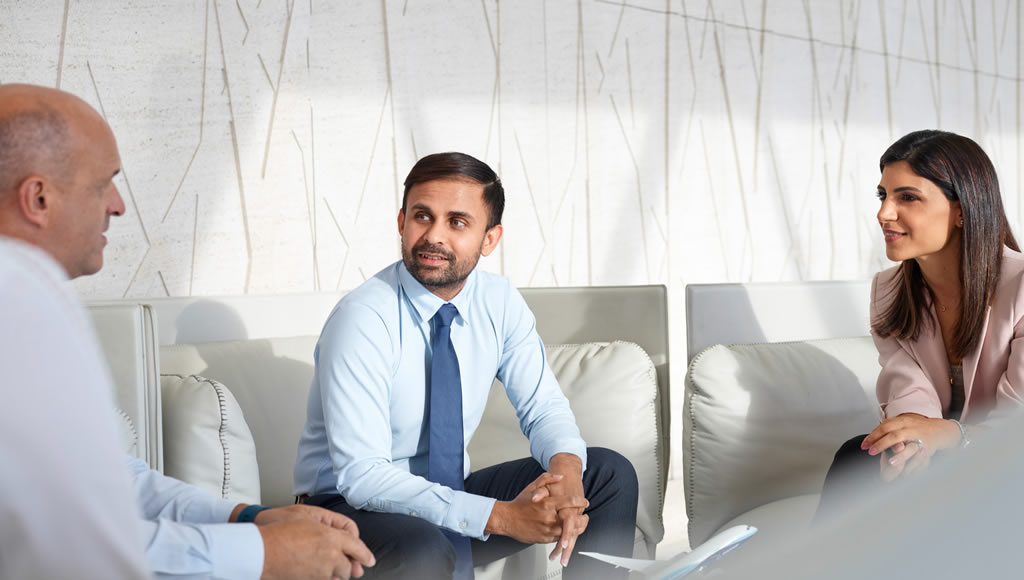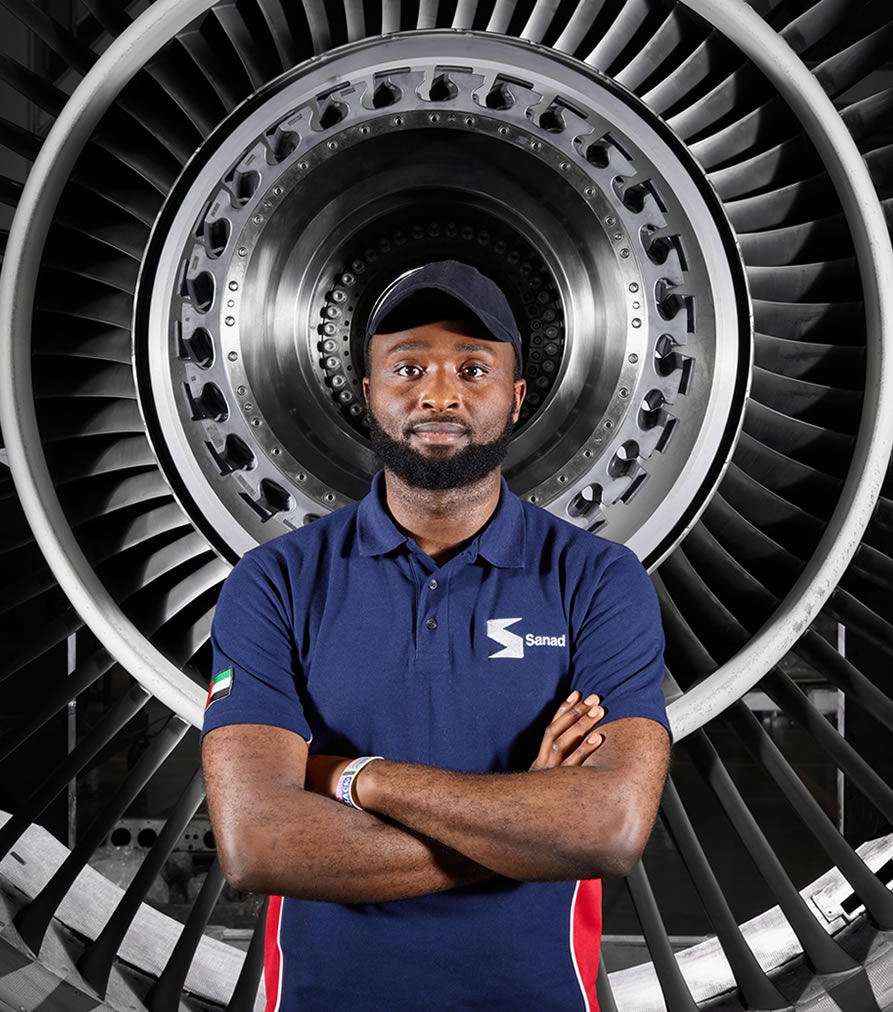 Our Culture
We are immensely proud of our people across Sanad who embody a wide range of skills across multiple disciplines. Our almost 400-strong workforce at Sanad Aerotech in particular, which is set to grow to 600 over the next two years, is made up of over 30 nationalities.
Ours is a culture of diversity – something of which we are also extremely proud. We invite initiative and encourage the empowerment and involvement of everyone – with the overriding aim of delivering best practices for our customers. And whilst we never lose sight of our heritage, we're always aiming for tomorrow.
Training & Development
It's in our nature to nurture people at Sanad. We not only view it as an investment, but also as part of our contribution to society, the industry and the economy.
At Sanad Capital, we welcome bright, incisive minds into an environment where we encourage colleagues to grow together. A suite of training initiatives and programs centered on finance, with specific focus on aviation, have been designed to educate and fully equip our people to work in a forward-thinking company. 
Our internal training program at Sanad Aerotech has been designed around the business needs and the development of an internal talent pool. Accordingly, we strategically select our training approach and subjects in order to make sure we create a role model Learning and Development program.
The training programs are comprised of three major modules:
Required by airworthiness authorities prior to the trainee working on engines and components. This program provides trainees with an insight into all legislation applicable to an MRO organization, such as: FAA/EASA/GCAA regulations, Safety Management System and Human factors.
Involves Theoretical and Practical modules that will prepare mechanics to become company authorization holders. The theoretical element provides trainees with a deep understanding of the Engine and System and Engine Performance. It also includes the basics in Inspection Technique and standard practice.
Designed around the Line Managers' needs to improve their team performance and, equally importantly, training, they are provided with soft skills modules to help either eliminate weakness or develop the personal career of our employees. Based on the employees' assessment reports and line managers' recommendations, the soft skills are designed to improve the performance and knowledge in selected areas such as communication skills, Train the Trainer skills, understanding QMS, and root cause analysis.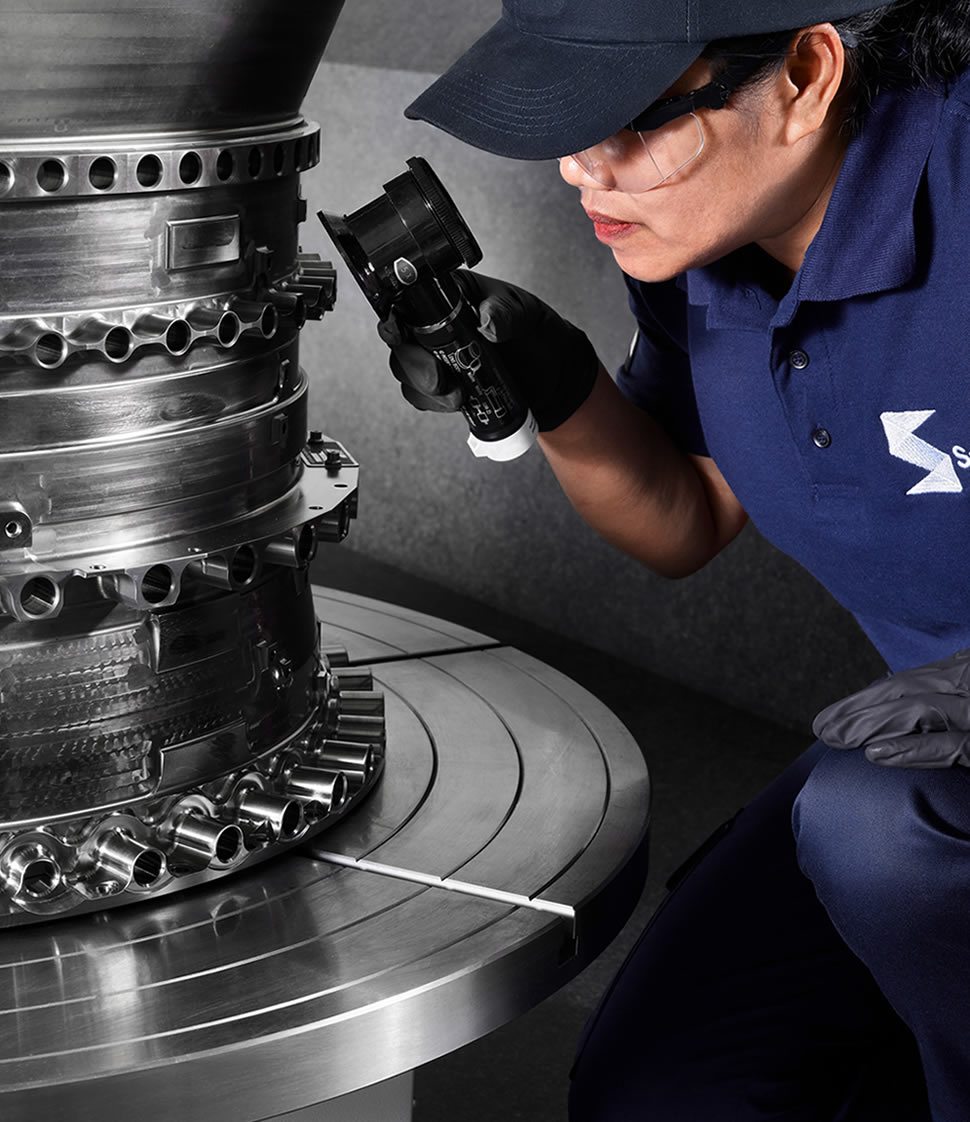 In it for the Long Haul
We encourage those who join us to stay and grow with us. Here are just a few of our longest-serving employees who came, learned and are only too happy to remain part of the Sanad family. And we're happy they did. 
Like to Join Us?
If you're looking to join an exciting forward-looking company, one that's always adapting to new technologies and constantly leading where others follow, send us your resume at careers@sanad.ae
Position Title: Bid Manager
Reports to: Vice President Commercial
Department: Commercial
Employee Type: Permanent
JOB PURPOSE:
To support our ambitious growth strategy on 3rd party Engine MRO Business, Sanad is looking for an experienced Bid Manager. Reporting directly to the Vice President Commercial, the successful candidate will be responsible to support our regional sales teams with the required commercial support to achieve our ambitious growth targets. The scope includes the management and coordination of the whole acquisition process including management of Sanad internal tender governance, project and key stakeholder management, development and application of cost calculation tools and Business Plans as well as creation and negotiation of best-in-class Proposals and Contracts in close cooperation with Regional Sales Managers.
KEY ACCOUNTABILITIES:
Develop comprehensive sales strategies and state of the art full service Engine MRO solutions by combining a wide range of complex technical and commercial products (MRO Services, Spare Engines, Financing, etc.)
Convert complex offers into commercially viable calculations and Business Plans
Take responsibility for achieving key commercial KPIs
Develop and apply cost calculation and Business Plan tools and processes
Manage Sanad internal Tender governance processes including but not limited to,

coordinate Sales projects with the use of CRM system
close cooperation and alignment with supporting roles (Engineering, Operations, Finance) during proposal stage in order to set up most comprehensive Engine MRO offers
Perform risk assessments and simulations
Stakeholder Management
Proposal presentation towards Sanad Senior Management (Sales/Commercial/Operations) in order to obtain approvals
create and negotiate comprehensive proposals and contracts in close alignment with Sales Managers
Handover successful Sales projects to Account Managers for fulfilment

Close alignment with Sales and Account Managers on any Engine MRO related commercial topics
Develop new technical/commercial Products and Services
Special Projects as assigned
International Travels to support customer negotiations
PERFORMANCE INDICATORS:
Revenue, profit and new sales generated
Accomplishment of Tender Timelines
Proposal and Contract Quality parameters
Sales Won/Lost Ratio
JOB CONTEXT:
We offer a challenging and highly visible position in a well-established MRO company within the aviation industry. The Organisation is aiming for an extensive growth of third-party Engine MRO business and expects successful candidates to contribute to this by high personal motivation and willingness to shape the role to adapt to the changing requirements. The job location is at our headquarter in Abu Dhabi, United Arab Emirates.
PROBLEM SOLVING:
Develop, apply, and improve tools and processes to commercially evaluate technically complex MRO services
Combine a wide range of products into a full-service solution offering (MRO Services, Spare Engines, Financing, etc.)
Identify and mitigate Engine MRO risks during the proposal stage
Working under high time pressure and tight deadlines
COMMUNICATION AND WORKING RELATIONSHIPS:
Constant alignment with several external and internal stakeholders required in the Proposal Process (Sales Managers, Engineering, Operations, Account Managers, Finance, Legal, Invoicing, Sanad Senior Management)
Close Alignment and Cooperation with Regional Sales Managers during ongoing RFPs (Working team)
FRAMEWORKS, BOUNDARIES AND DECISION-MAKING AUTHORITY:
The successful candidate will independently work within the assigned scope in close alignment with Sales Managers and under the guidance of the VP Commercial.
QUALIFICATIONS, EXPERIENCE AND SKILLS:
Essential Qualifications, Experience and Skills:
University Degree in Engineering, Business Administration, Economics or equivalent
Minimum 5 years' experience in Commercial Engine MRO roles (Sales, Business Development or Account Management)
High knowledge about Engine Overhaul Cost and Pricing structures
Experience with Engine Overhaul processes for Aero Engines (V2500, Trent700 and GEnx are an advantage)
Experience in efficient Project- and Stakeholder Management
High analytical and methodological competency to perform cost and Revenue calculations, business models and risk simulations
Generic Skills:
Reliable working style
"Can do" and "Getting things done" attitude
Ability to work independently and cross-functionally as part of an established and growing team
Given the prominent role excellent communication and presentation skills are a must together with the highest levels of integrity and reliability
Strong ability to work under high time pressure and tight deadlines
KEY COMPETENCIES AND PROFESSIONALITY LEVELS:
| Behavioral Competencies: | Proficiency Level |
| --- | --- |
| Emotional intelligence | High |
| "Can do" and "Getting things done" attitude | Very high |
| Able to work independently | Very high |
| Technical Competencies: | Proficiency Level |
| --- | --- |
| Communication & presentation skills | High |
| Analytical and methodological skills | Very high |
| Engine MRO engineering/technical know-how | High |
| MS Office | Very high |
| English language | Very high |
| Arabic language | Advantage |